Join Sacramento Building Healthy Communities and Public Health Advocates at our upcoming Community
Advocacy Workshops for the Sodium Warning Icon Community Campaign in the City of Sacramento. The Community Advocacy Workshops are intended for community members that will help us bring awareness about the overconsumption of sodium, the impact it has on our health and ways that community members can advocate for healthy changes in their communities.

The average American adult consumes almost 50% more sodium than the recommended daily amount of 2,300 mg by the American Heart Association. Children, on average, ingest about double the recommended amount, and typically sodium intake tends to increase with age. Consuming too much sodium over a long period of time can lead to elevated blood pressure, a major risk factor for heart disease and stroke, which together kill more Americans each year than any other cause. The California Sodium Menu Disclosure Campaign is a grassroots-led campaign in low-income communities of color to reverse health disparities related to the prevalence of high blood pressure, risk of heart disease, stroke, and other chronic illnesses. The purpose of the campaign is to adopt a sodium menu disclosure ordinance (menu warning labels) requiring restaurant chains in Los Angeles County and in the City of Sacramento to disclose which food items have more than the recommended limit of sodium with a warning icon on menus. The campaign is funded by The Center for Science in the Public Interest.
Our workshops encourage Sacramento residents interested in advancing public health and encourage them to increase their leadership skills in the advocacy phase of this campaign. The first phase consists of 6 workshops on different topics of the impacts of sodium on health and the development of leadership skills.
Incentives will be provided after the completion of the Policy and Advocacy Workshops.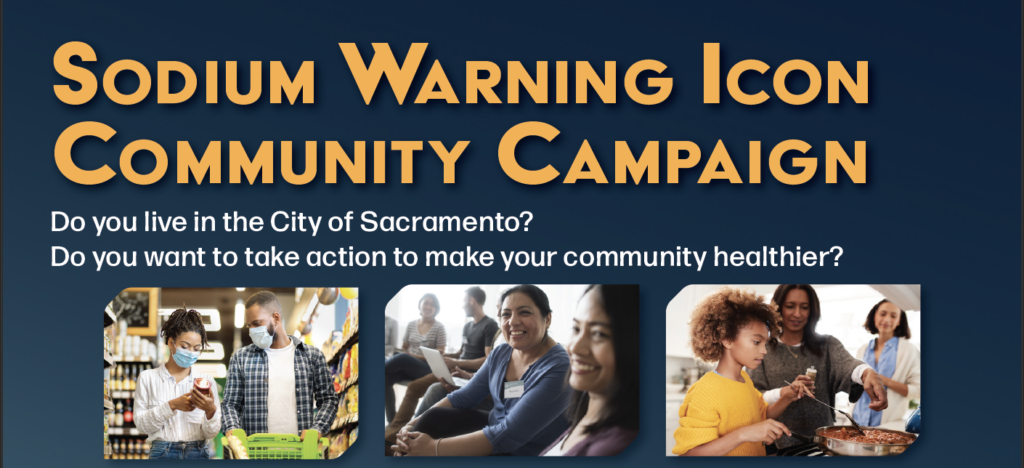 Join Our Workshops On Zoom:
Workshop #1 September 21st, 2021 at 5:30pm to 6:30pm
Workshop #2 October 19th, 2021 at 5:30pm to 6:30pm
Workshop #3 November 16th, 2021 at 5:30pm to 7:00pm Click Here To Register
Workshop #4 December 14th, 2021 at 5:30pm to 7:00pm Click Here To Register
Workshop #5 January 18th, 2022 at 5:30pm to 7:00pm Click Here to Register
Workshop #6 February 15th, 2022 at 5:30pm to 7:00pm Click Here to Register
Sodium Warning Icon Community Campaign Toolkit